We provide the finest linens to hotels, restaurants, resorts,
casinos and cruise lines across the world.

Our Rich History
Garnier Thiebaut is the renowned leader
worldwide in luxury linens, with er 185 years of experience.
Our roots date back to 1833 in Gerardmer, France.
The GT team works hard daily to provide our customers
with the highest quality linen there is to offer.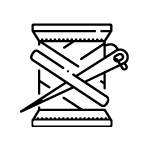 High End Quality from France
Today, the company's manufacturing facility
in Gerardmer, France is Europe's most
advanced center for the design, color and
production of fashion fabrics. Our team of
over 200 creative artists design and produce
Garnier-Thiebaut linens.